---
INSIDE A BOTTLE JACK ANIMATION Page
(It takes a little time to load but once it is in your cache it works relatively smoothly...)
---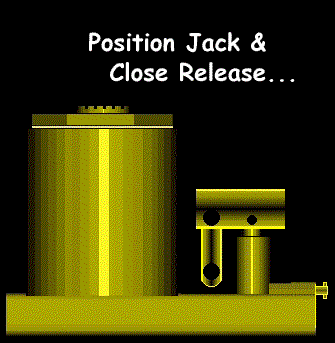 The Individual Frames of this Animation are available for viewing here.
---
Every week students, engineers and curious people from all walks of life ask us what makes a jack work and are quite surprised to hear that the answer is simple leverage.

Putting that 3 foot handle into the little pump piston handle yoke and pushing down with the force in your arm does the trick. Try the same operation with the jack under load using only a six inch handle and you'll soon see a big difference. Or try it with a six foot handle - Much easier.

In a floor jack, it's the same thing except the 'bottle jack' is positioned horizontally and pushes against a lever lifting the main lift arm. Plus you're using a longer handle and you're getting more lift per stroke with the increased leverage, allowing you to pressurize more oil and move it around quicker.

A hand pumped Porto-Power style component system would also act in almost the same manner except the pump would contain the reservoir, release, check valves and pumping piston while a high pressure steel re-inforced rubber hose would act as a 'port' to the main cylinder where the main piston would do the pushing when pressurized oil was applied to it.

We have deliberately left out the seals to keep the minute details to a minimum and mainly explore the basic elements. The two Primary sealing points would be between the Pump Piston and the Pump Cylinder wall and between the Main Piston and the Main Cylinder wall. The release valve, tops of the Main and Pump Pistons are secondary sealing points, even tho they are the most visable. Usually when a leak is present at the Pump or Main Pistons the actual problem is further down inside...
---

This page updated by Richard J. Tafilaw, April 17, 2014. Online since March 30, 1996
Consumer Phone Hours:
9:00 AM til 2:00 PM, (Pacific Time) Monday - Friday
Phone # (818) 845-3928
OTTO SERVICE
2014 Burbank Bl.
Burbank, California 91506
©2014 OTTO SERVICE,